MTZ-82 Series Tractor v03.01.18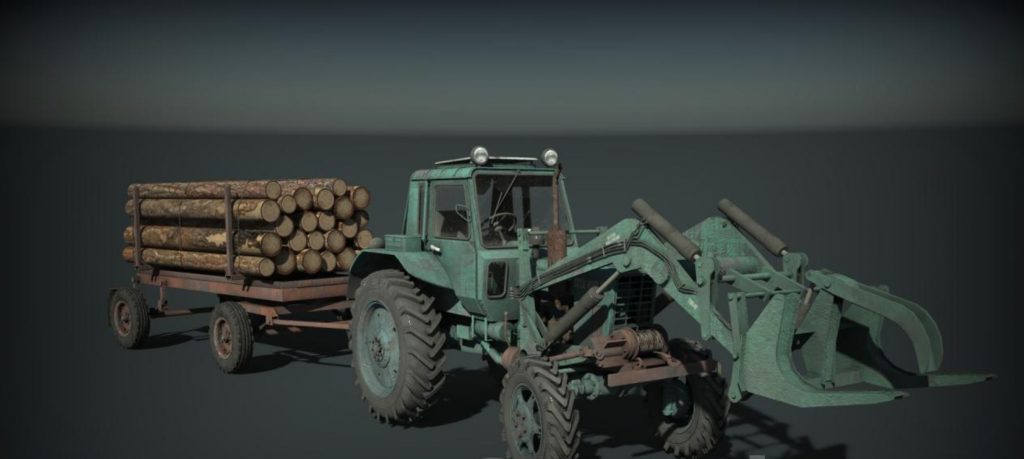 MTZ-82 and MTZ-82.1 tractors of the 1985 model. All-wheel drive versions of the legendary MTZ-80 series with a small and large cabin. The engine is only 81 hp, weight about 3.5 tons. Tractors have excellent cross-country ability. There are two add-ons for transporting the forest (2 points, short logs): trailer 2PTS-4 and a cart with conics, on the same chassis. However, transportation of timber on these tractors is not a simple task, the tractor is light, and the coupling weight may be small in order to haul a heavy trailer.
From the add-ons there is a garage trolley (based on 2PTS-4), two types of loaders: front, PKU-5-19, and rear loading crane. For both versions of the tractor, a front blade is available, which can be used for clearing roads and loading areas from stones and branches. It is possible to install two variants of rear mechanization: one is animated and has a lifting mechanism, the second – with the hydraulics and the trailer coupling off. All models have rich animation and look great.
Almost all 3D models I created specifically for these tractors. Textures were also rendered again, under new models. Nevertheless, I want to say a big thank you to D.Alexandrovich, N. Kutsapalov, vorkir and others, since. it all started with their excellent fashion, made back in 2014, some of which can still be found in the cabs of my tractors ?
I draw your attention to the fact that trailers from these tractors will be available on my GAZ-53 while installing two mods.
Have a good game!
Authors:
pokemone
MTZ_82_Series_03_01_2018_by_pokemone_for_SpinTires… – 134.7 MB
---
Please rate this post
---
Who spintires the game?
Do you like to ride dirt tracks after, try your hand at cross-country competitions?
Spintires
game is for you. Complete your game with new maps, tractors, cars, trucks, download
spintires mods
free. The game features a lot of dirt, dirty vehicles and roads difficult to overcome. Good game...
NEXT NEW
You may also like...