NAMI-0127 Truck v25.12.17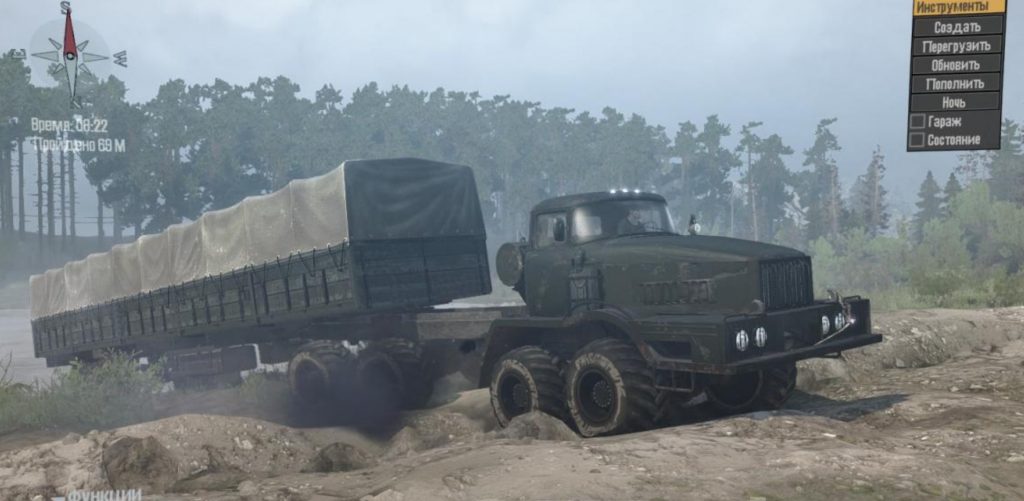 The experimental truck NAMI-0127 was developed in 1965, and two prototypes of the test vehicle were built in 1968 at one of the enterprises of the USSR Ministry of Gas Industry.
NAMI-0127 had an unconventional design with articulated-frame and full-drive. Turning wheels at the machine was not, maneuvering was carried out due to the fracture of the frame.
The truck was equipped with an eight-cylinder diesel engine YaMZ-238 with a capacity of 238 liters. from. and had a drive on all eight wheels.
One of the main options for using the experimental model was to work as part of a train-train with a trailer-dissolution on the construction of gas facilities in Central Asia.
Mod has 6 of its add-ons + 5 default ones. There is a cargo (boxes of 7 tons for 8 points of a sawmill).
View from the cockpit without a dashboard.
The mod was converted from SpinTires, the original model was taken from the Internet.
Update 25.12.17: – Fixed a bug of the lack of textures on the boxes. (now there are textures, everything works fine)
PS: the forwarder's head does not turn left, his neck hurts simply
Authors:
Bogelman Dmitry (Bogelma)
nami_241217_mr_TEXT_bogelma.zip – 73.8 MB
---
Please rate this post
---
Who spintires the game?
Do you like to ride dirt tracks after, try your hand at cross-country competitions?
Spintires
game is for you. Complete your game with new maps, tractors, cars, trucks, download
spintires mods
free. The game features a lot of dirt, dirty vehicles and roads difficult to overcome. Good game...
NEXT NEW
You may also like...