Spintires: MudRunner Mod On v0.5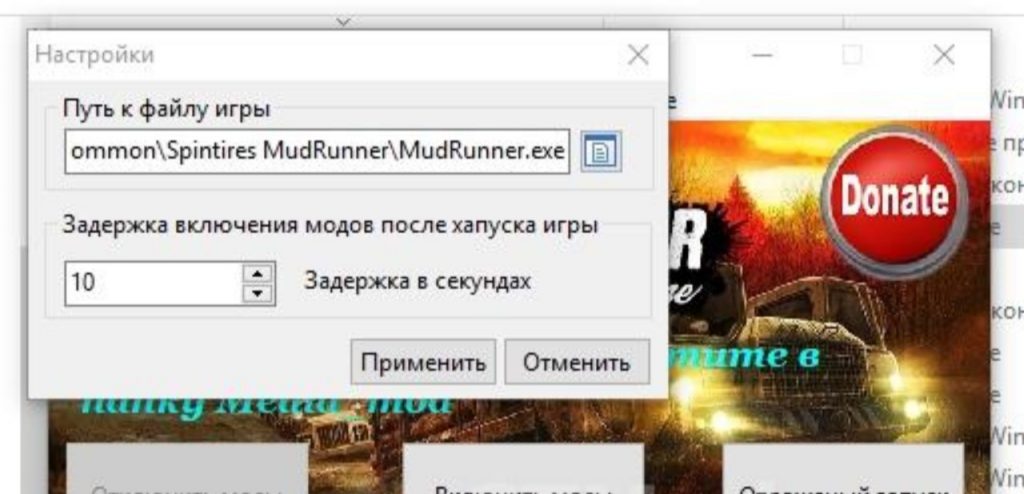 Spintires MudRunner Mod On – performs the same function as spmmm, namely the inclusion of mods in the game + deferred connection of mods, clearing the caches, the Media folder, the Config.xml patch.
Put the file in the root folder of the game.
Run as administrator.
At the first start, folders will be created: Media_mod, Media, will be patched by Config.xml.
Media_mod – it should put the modification files.
If you already have files in the Media folder, they should be moved to the Media_mod folder, because after the mods are turned on, the original Media folder with all the contents will be renamed Media_original and the modes will be inaccessible in the game.
To work in the mode of delayed start of mods, go to the settings section, then specify the game file and the delay time in seconds. The delay time is the time through which the Media_mod folder changes to Media and the mods become available.
Why do I need a delayed launch? In some cases, when adding third-party mods, in the network game mode, you can see the message "files are different from the original ones", the server is not looking and does not create a room. Often this problem is solved by the inclusion of mods after the start of the game.
Program on the author's website
Version 0.5 for Spintires: MudRunner (v29.01.18):
The function of patching the Config.xml file is added – (you do not need to add MediaPath Path = "Media" itself to the config)
Authors:
maxim_win
---
Please rate this post
---
Who spintires the game?
Do you like to ride dirt tracks after, try your hand at cross-country competitions?
Spintires
game is for you. Complete your game with new maps, tractors, cars, trucks, download
spintires mods
free. The game features a lot of dirt, dirty vehicles and roads difficult to overcome. Good game...
NEXT NEW
You may also like...