Spintires: MudRunner – Second Update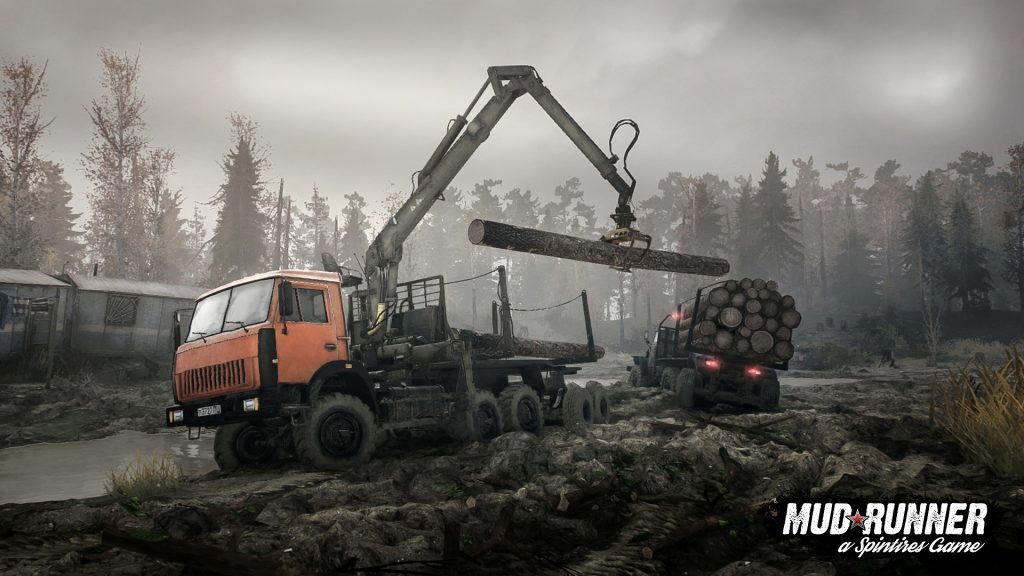 Hi everyone,
It's been just over a month since Spintires: MudRunner launched, and we're happy to announce that the second Spintires: MudRunner update is now out on PC! The console versions of the update will be coming in a couple of weeks, and will include wheel support!
Here are the main additions and fixes.
CAMERA
Centered Camera
Added a new camera centered on vehicles, that is now used by default by all players.
Players can choose the legacy camera by disabling "Center camera on the truck" in the settings
The new centered camera can be zoomed in/out to increase visibility.
While using Quick Winch, the legacy camera will be used, if players are using a controller.
Cockpit Camera
New feature: Look out of the left window while reversing.
Cockpit camera can no longer be activated underwater.
Cockpit camera can now zoom in.
Cockpit camera is now activated with the right mouse-button.
Added a keybind to activate cockpit camera.
MODS
In multiplayer, if the host had multiple mods installed, and then created a lobby and selected only modded trucks, the client was unable to join and the game would crash. This has now been fixed.
"Reload" in The Proving Grounds will now reload the addons attachment position.
Long mod names will now be shortened.
SAVING & LOADING
Plants (trees) are now properly saved to and loaded from save files.
When moving the camera, the map is now loaded more efficiently.
The game now autosaves every 5 minutes
TUTORIAL & CHALLENGES
The front/rear camera hint is now presented at the beginning of the tutorial, and in THE RIG challenge, and will no longer appear in REPAIR & REFUEL.
THE RIG cockpit bonus objective will now correctly mark itself "finished" as soon as the player reaches the unloading area.
The tutorial will now demonstrate both the legacy and centered camera versions.
OTHERS
Removed the requirement to align a trailer to the truck when loading logs onto a trailer.
Multiplayer chat will no longer overlap with keyboard/gamepad hints at the bottom of the screen.
The mouse will now work properly after activating the Steam Overlay with a gamepad or steering wheel.
When clicking on "load up" points to pack a load, advanced mode will no longer be exited.
Various other tweaks and fixes.
In upcoming patches, we plan to include Workshop support for maps, working mirrors in cockpit view, and additional wheel support.
We'll give you more visibility on updates release date as soon as we can. Please continue to give us your feedback so that we can together continue to make Spintires: MudRunner the best game it can be.
Many thanks!
Focus Home Interactive and Saber Interactive
Authors:
Focus Home Interactive
1 Star2 Stars3 Stars4 Stars5 Stars (4 votes, average: 5.00 out of 5)
What is this mod use for:
Cannot get the idea why Spintires: MudRunner Mods are so special? Well then you have landed in the right place – we will explain everything that you probably want to know. So, let's begin: Spintires: MudRunner Mods are additional files, which expand your options and provide you with new possibilities. Each Spintires: MudRunner Mod is designed to solve particular problems and help to boost your chances to overcome boundaries. If you cannot move forward and it seems that you've tried everything, Spintires: MudRunner Mod might offer you unseen features which will make you overcome all kinds of obstacles. This is the reason, why Spintires: MudRunner Mod free files are so popular all over the world – they assist a player and make everything solvable. If you find yourself in the situation where you have no escape, take a look at our suggested files and pick the needed upgrade. Completing Spintires: MudRunner Mod download is very simple and quick, so there won't be any difficulties. If it sounds great, don't wait a second anymore, this is a perfect chance to get the significant benefit against your competitors without spending much time or money. It's about time to start playing smart and using all available choices. Don't stay at the back of the line and surprise all your opponents. Become a leading player and accomplish goals that you even weren't dreaming about. Sounds even too good? You will never know unless you experience it yourself. It's definitely something worth trying – so go for it right now!
---
Please rate this post
---
Who spintires the game?
Do you like to ride dirt tracks after, try your hand at cross-country competitions?
Spintires
game is for you. Complete your game with new maps, tractors, cars, trucks, download
spintires mods
free. The game features a lot of dirt, dirty vehicles and roads difficult to overcome. Good game...
NEXT NEW
You may also like...