October Community Update – SnowRunner
Hello SnowRunners!
October is here, and we're excited to bring you some insight into the development of SnowRunner, looking at what the team has been up to, and share some brand new screenshots, including a new vehicle presentation!
To celebrate the Fall Season, we'd like to show off some shots of Michigan, one of the three regions that you will explore when SnowRunner launches early next year. Each Region in SnowRunner is huge, spanning multiple maps, each of which is several times larger than the average MudRunner map.
Let's go on a little journey!
A tranquil town next to a lake waits for supplies.
Bring supplies to the broken bridge to repair it and cross the river.
On top of being much larger, these maps are physically interconnected by tunnels. Exploration is an essential aspect of SnowRunner, so to pass from one map to another, you must drive to the edge of the map and use the gateway that leads to the next. Occasionally these will only unlock after you complete certain missions.
A whole new world!
The map waits to be explored.
A lot of work has gone into map design and how players explore the wilderness in SnowRunner. Each region has its own flavor, music, and overarching backstory, which the player discovers over time as they complete tasks to repair, build, and resupply remote and untamed locations.
In Michigan for example, you will find tranquil border towns enveloped by a fireworks display of autumn leaves, flooded plains and bogs, and rocky mountains full of treacherous paths.
The team has also been working hard on the music of SnowRunner this month. You can expect the familiar, warm and weather-worn strings of blues guitar, but also regionally specific music and instruments that contribute towards making each area feel unique.
The Azov 64-131
Of course, it wouldn't be a monthly community update without at least one new vehicle presentation, so feast your eyes on the powerful Azov 64-131:
And in case you missed it sliding by, take a look at this sweet slippery GIF with the Don 71:
The season of spook has arrived, and nothing says Halloween like driving through a field of pumpkins.
We hope you've enjoyed this month's update! We look forward to sharing more news and vehicles with you as we get closer to launching SnowRunner early next year.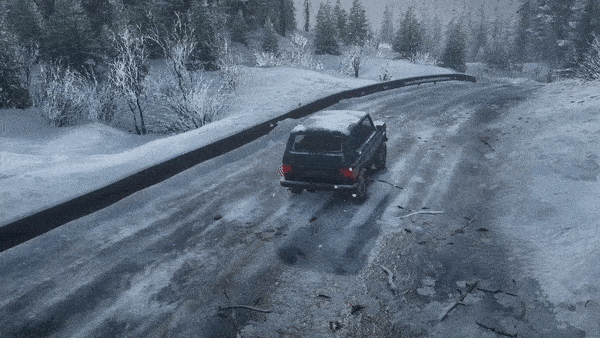 Authors:
SnowRunner
---
Please rate this post
---
Who spintires the game?
Do you like to ride dirt tracks after, try your hand at cross-country competitions?
Spintires
game is for you. Complete your game with new maps, tractors, cars, trucks, download
spintires mods
free. The game features a lot of dirt, dirty vehicles and roads difficult to overcome. Good game...
NEXT NEW
You may also like...