SnowRunner or MudRunner 2?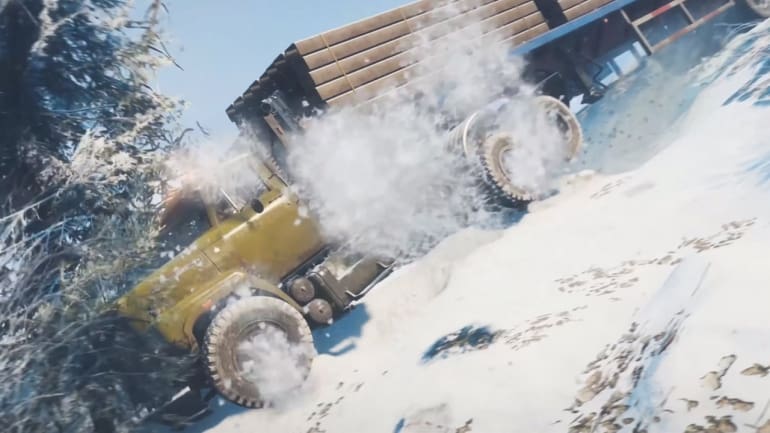 A year ago, MudRunner 2, a continuation of the famous off-road truck simulator Spintires, was revealed by Saber Interactive and Focus Home Interactive. The very first development details said that there would be new forms of terrain surfaces like ice or snow, amongst other items.
But with the release of an announcement trailer in Gamescom 2019, things have taken a twist especially with the game title. The terrains turned out to be so much inspired throughout the game that the developers decided to change the title of MudRunner 2 to SnowRunner. A game that has everything MudRunner has, on its own snowy surface to drive your truck on.
The original Spintires, an Intel ® award winning off-road driving experience, was designed to challenge players' driving skills and endurance. It was released back in 2014 as a truck driving simulator, where your challenge is to take responsibility for the operation of large all-terrain vehicles and venture across rough landscapes with only a map and a compass for guidance.
The game went through a series of changes in its title. The game was first re-released as Spintires: MudRunner and then as MudRunner. Last year, the continuation part of the series was announced under the title MudRunner 2. But keeping up with the traditions of Spintires, the game title has been converted to SnowRunner once again.
Particularly in comparison to the first episode of the series, SnowRunner is engineered to provide much better visual effects and more precise physics procreation. The title includes more than 15 accessible maps full of mud, snowdrifts and countless hills and mountain barriers, some of which may be up to four times larger than the one referred from the original.
According to the official word from Community Manager, Jellyfoosh, "Living up to its name, SnowRunner will feature vast snow maps to get lost, along with a ton of new vehicles, missions, and gameplay to keep you coming back for more. And don't think we've forgotten the mud–SnowRunner will, of course, also feature snowless maps where you can wrestle with mud to your heart's content."
SnowRunner can authorize solo gameplay, and if someone is more willing to engage in the transportation of goods from one to the other, with mates, as rapidly as possible, they might be keen in multiplayer mode. It will support as many as four players as possible.
And unlike many of us were anticipating after hearing that the game will be launched on Epic Games Store only, the developers drops the news on SnowRunner mods compatibility as well. Yes, you heard it right. Community Manager, Jellyfloosh, announced in his post:
"We can already confirm that, as you would expect, SnowRunner will feature mod support on PC at launch. We owe so much to our mod fanbase and their endless creativity, and we can't wait to see what they will create with our new and improved tools! We'll share more details about this topic in the coming months."
SnowRunner is due for release in 2020 on PC (Epic Games Store), PlayStation 4 and Xbox One. The final date has still not been indicated.
Authors:
Focus Home Interactive
---
Please rate this post
---
Who spintires the game?
Do you like to ride dirt tracks after, try your hand at cross-country competitions?
Spintires
game is for you. Complete your game with new maps, tractors, cars, trucks, download
spintires mods
free. The game features a lot of dirt, dirty vehicles and roads difficult to overcome. Good game...
NEXT NEW
You may also like...